The Budget Traveller's Guide to the Maldives
Your Must-Have Companion for the perfect trip to the Maldives
Introducing the ultimate guidebook to the island of Maafushi. You won't find anything else like this out there. This is the perfect guide for budget travellers to the Maldives. Whether you're a seasoned traveller or new to the adventure, our comprehensive guide is tailor-made to ensure you have the best experience.
Get ready to uncover hidden gems, dive into local culture, and be amazed by the breathtaking beauty of this island paradise. We'll be your trusted companion, leading you through the top experiences, must-visit attractions, and the best places to stay. With our handy tips, you'll make the most of every moment and create memories to cherish.
Our guidebook covers everything from thrilling scuba diving and exciting watersports to savouring delectable Maldivian cuisine and embracing sustainable tourism practices. Sample itineraries, cultural insights, and practical information will make planning your dream vacation a breeze.
Let Discover Maafushi be your passport to an unforgettable Maldivian getaway! Get ready for an adventure like no other in this captivating destination. Your extraordinary Maafushi experience awaits!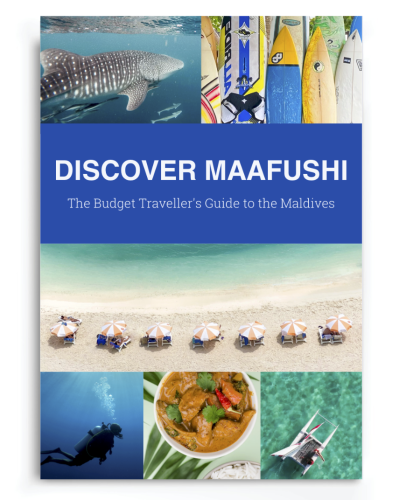 What Awaits You In This Book
You will learn about the variety of island activities with estimated prices for each, making it easier to plan and budget for your dream adventures.

You will discover the best traditional and modern souvenirs and where to find them, so you can take home the perfect mementos from your unforgettable trip.

We provide links to tour companies, allowing you to contact them ahead of time for inquiries. 

Explore different neighbourhoods and find recommendations for ideal places to stay in these neighbourhoods. 

We offer you the most recommended local dishes, snacks, and restaurants on the island, to savour the most authentic local flavours.

Benefit from our expert tips provided at the end of each chapter on culture, getting the best experiences, safety and more, ensuring a smooth and enjoyable journey.

Uncover 10 Instagrammable spots around the island with photos and Google Maps links, perfect for capturing stunning memories.

Checklist of travel essentials, ensuring you're well-prepared for a hassle-free adventure.

Be aware of important dos and don'ts to avoid any surprises during your stay.

Learn about different transport methods to get to the island, including prices, making your travel decisions a breeze.

Explore well-crafted 3, 5 and 7-day itineraries, tailored to offer a perfect balance of exploration and relaxation.

Understand the pros and cons of visiting at different times of the year, so you can plan your trip according to your preferences.

Discover recommended spas with Google Maps links, offering you moments of relaxation and bliss.

Learn about the island's distinct charm and what makes it a truly extraordinary destination.

Over 50 pages of valuable information, photos, website links, google map locations and much more.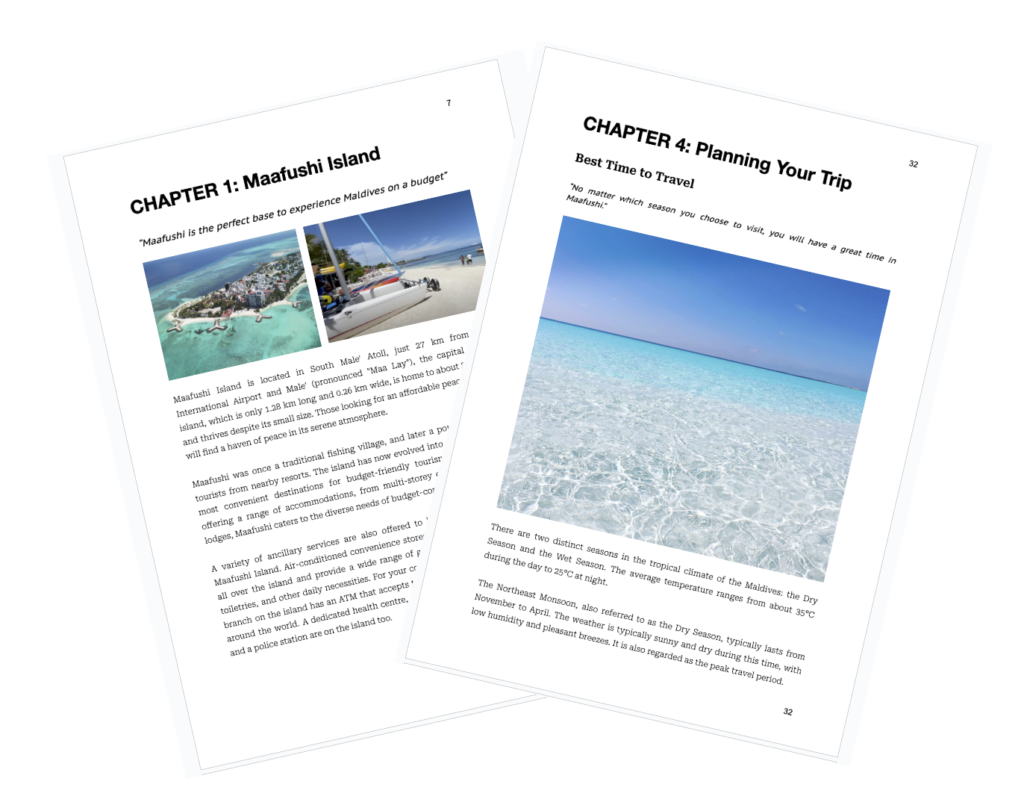 Frequently Asked Questions
What makes this guidebook stand out from others? 
Our guidebook is uniquely tailored for budget travellers visiting Maafushi, offering a comprehensive source of information conveniently compiled in one place. As locals, we know the ins and outs of the best experiences, delicious cuisine, and authentic souvenirs, providing insights that foreign travel writers may not have access to.
Why makes you an expert on the Maldives?
As locals, our in-depth knowledge of the country and specifically Maafushi Island ensures that you receive accurate and valuable information to enhance your travel experience. We know the best experiences and cultural nuances that can make your trip truly unforgettable.
Is the Maafushi Guidebook suitable for first-time travellers? 
Absolutely! This guidebook is perfect for first-time travellers, offering all the essential information you need to know about Maafushi and the Maldives. Even if you're a returning traveller, you'll discover new insights and updates about the island and the country.
Can I use the guidebook as a reference during my trip? 
Yes, that's the beauty of our ebook. Download it to your phone or iPad and have it as your trusty travel companion. With location links included, you can easily navigate and access information while on the ground.
Is the book available in print? 
Currently, our guidebook is available in digital format only. This allows for easy updates and access to links for your convenience.
Do you offer the book in other languages?
Yes, we have exciting plans to expand our guidebook into multiple languages, including Thai, Japanese, Chinese, German, and Russian in the near future.
Can I contact you if I have questions? 
Absolutely! Feel free to reach out to us anytime at info@whereismaldives.com. We are more than happy to assist you.