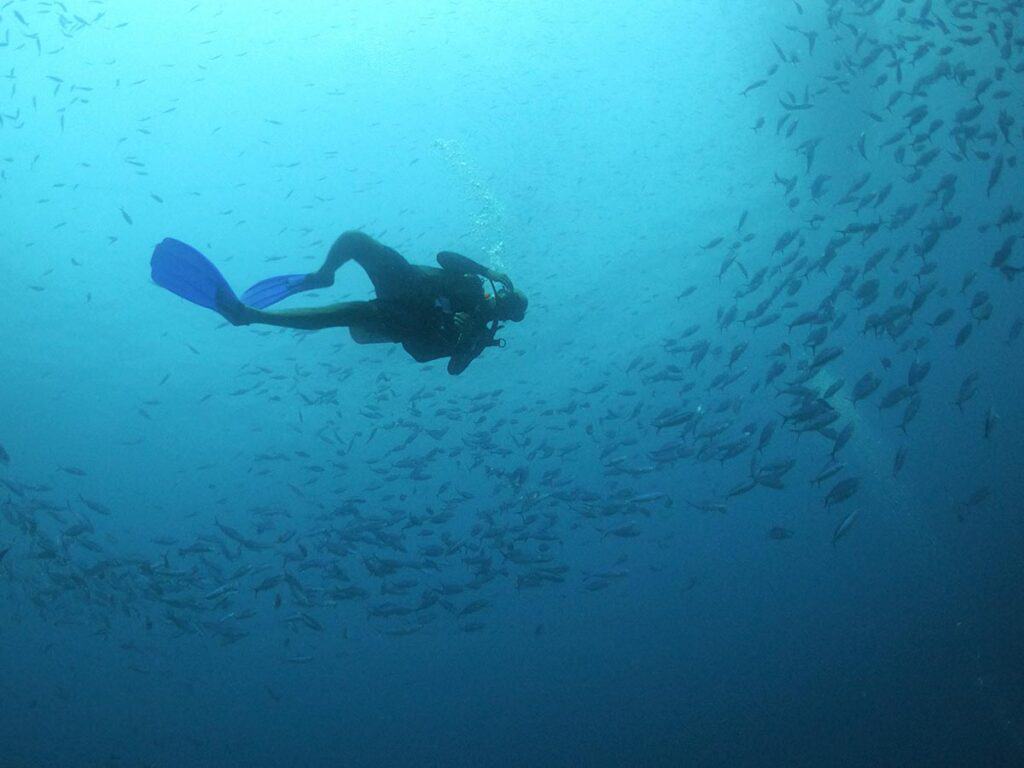 With clear and warm blue water, white sandy beaches, and overall great visibility, the Maldives is the perfect scuba diving destination. With hundreds of bustling reefs teeming with diverse marine life, scuba diving in the Maldives can be enjoyed both on a liveaboard or while staying in an island. The Maldives offers a great assortment of dive resorts and liveaboards for all budgets, from budget to high-end. You could be on a liveaboard and have access to multiple dive sites or stay in an island and dive at locations which are close proximity. Diving is done at a relaxed drift pace as the current sweeps along the chain of 1200 islands. There are variety of dives you can engage in such as reef dives, lagoon dives, channel dives, drift dives, wreck dives to night dives. Inside each atoll there are multiple lagoons, and coral pinnacles rise up to the ocean's surface. In the channels there are swim-throughs, caverns and overhangs teeming with colourful marine and coral life. At cleaning stations, you will encounter bigger animals such as the giant manta rays, green turtles and whale sharks.
The Maldives offer several different dive environments, some of which include: Reefs:  This is the outer reef of the atolls and islands. Locally known as 'Faru'. Pinnacles: A circular reef in which the top reaches the surface, particularly in low tide. Giris can be found inside the atoll and inside large lagoons as well. They offer a variety of marine life and are perfect for novice divers. Locally known as 'Giri' or 'Thila' depending on the size. Thila usually does not reach the surface and is larger than Giri. It can have strong currents at times. Channel: A channel where the atoll meets the ocean and is the gateway to the atoll. It is commonly done as a drift dive. The strong currents bring big pelagic fish such as sharks, mantas, and schools of tunas. The geography includes caverns, swim-throughs, undercuts, and overhangs full of colorful sponges and invertebrates, perfect for underwater photographers. Lagoons: Most islands and big reefs have its own sandy bottom lagoon protected from the current which is ideal for beginners learning to scuba. May not have abundant marine life. Wrecks: There are a few interesting wrecks across the country. Noteworthy ones are MV Victory and British Loyalty.
Diving in Fuvahmulah is the ultimate underwater experience.  One of Fuvamulah's biggest draw is diving with Tiger Sharks at Tiger Zoo. Probably the only dive site in Asia that guarantees Tiger Shark sightings every day. Divers can be treated to Tiger Sharks with lengths of up to 4-meters. This site has a great possibility of observing them all year round, from shallow to deep, sometimes dozens of them at a single time.