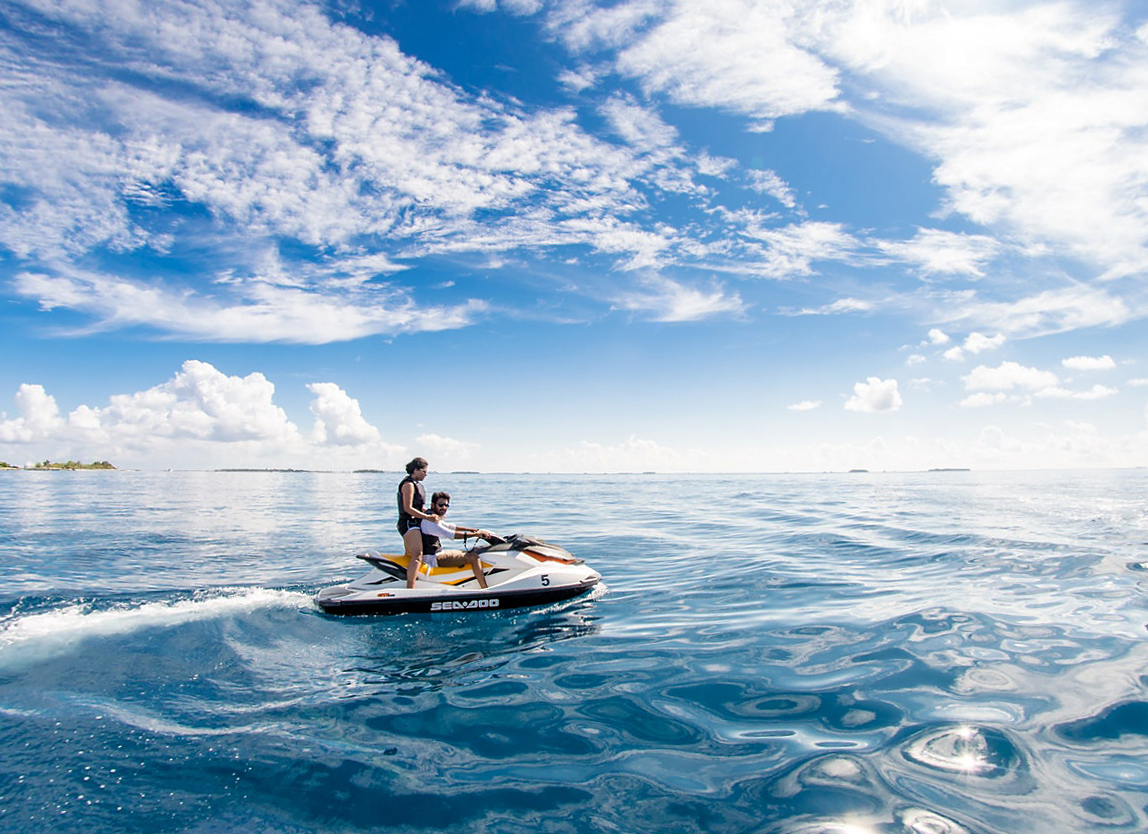 A heart-pounding ride across the lagoon on a Jet-Ski is a must when you are in the Maldives. You can do it solo or as a couple and all hotels will have an escort with you on another Jet-Ski at all times. Nevertheless, you will be maneuvering the watercraft on your own and will be able to explore the surroundings of the island.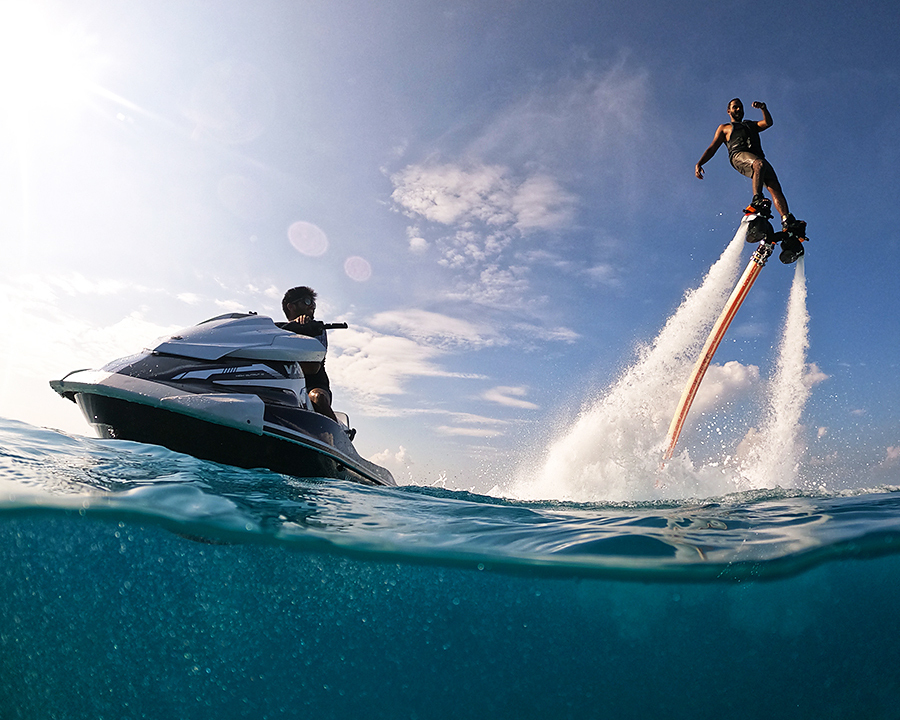 Flyboarding is only a decade old and it has become very popular in the Maldives. The hydroflight sport is made possible through a jetski pumping to the special boots which in turn uses water jet propulsion to lift the participant several feet into the air.
It is great for adrenaline junkies who would like to try something new on their holiday. The sport is fairly safe as participants will wear a life jacket and a helmet. Flyboarding requires leg muscle strength and balance to sustain the flight without dropping in the water.
Stand-Up Paddle Board (SUP)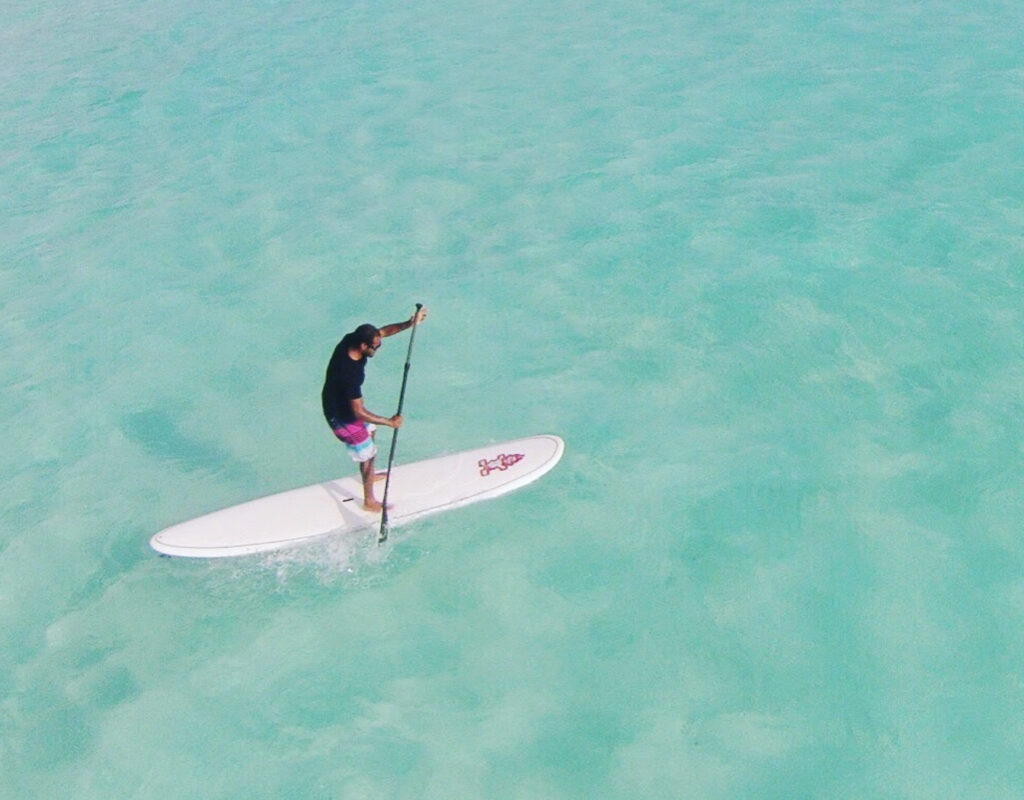 Stand-up paddleboarding (SUP) is a water sport born from surfing with modern roots in Hawaii.
A combination of kayaking and surfing, this sport is fundamentally standing on a surfboard and using a paddle to propel yourself. These boards are longer, wider, and more buoyant than traditional surfboards, which gives you good balance while you are on them. They are suitable for all conditions from ocean waves to gliding through calm lakes.
It's a great full-body workout and it's perfect for all ages and skill levels.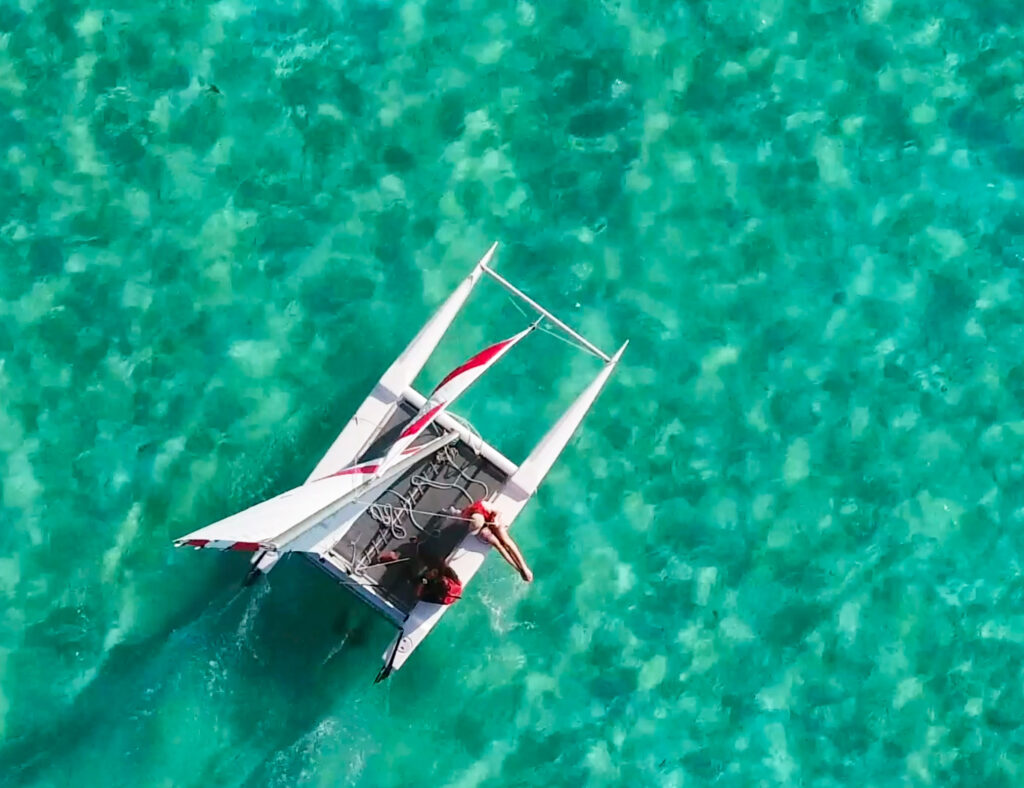 Riding the waters on a catamaran is an experience that is parallel to creating art. It is faster than being on a sailboat. It is a refreshing activity giving your holiday a unique add-on by giving you a sense of freedom.
An experienced crew member will be with you at all times so you will be able to enjoy a hassle-free sailing experience, perfect for discovering the waters nearby.
Windsurfing is a great way to catch the refreshing tropical breeze as you navigate through the lagoon surrounding the island. Gliding on the transparent waters of Maldives is an absolute joy.
All resorts and guesthouses offer equipment and lessons for tourists. The instructors will always ensure your safety and provide you with all the required information about the sport and conditions in the surrounding waters. Equipment for beginners and advanced riders are also available.
Banana riding is suitable for all ages. The main boat is yellow inflatable banana shaped one. friends of family, a single banana boat can hold about 5 to 6 riders.
Just to make the whole experience more fun, the tow boat purposefully turns the tube so that the entire group suddenly falls into the shallow lagoon and frolic as they splash about.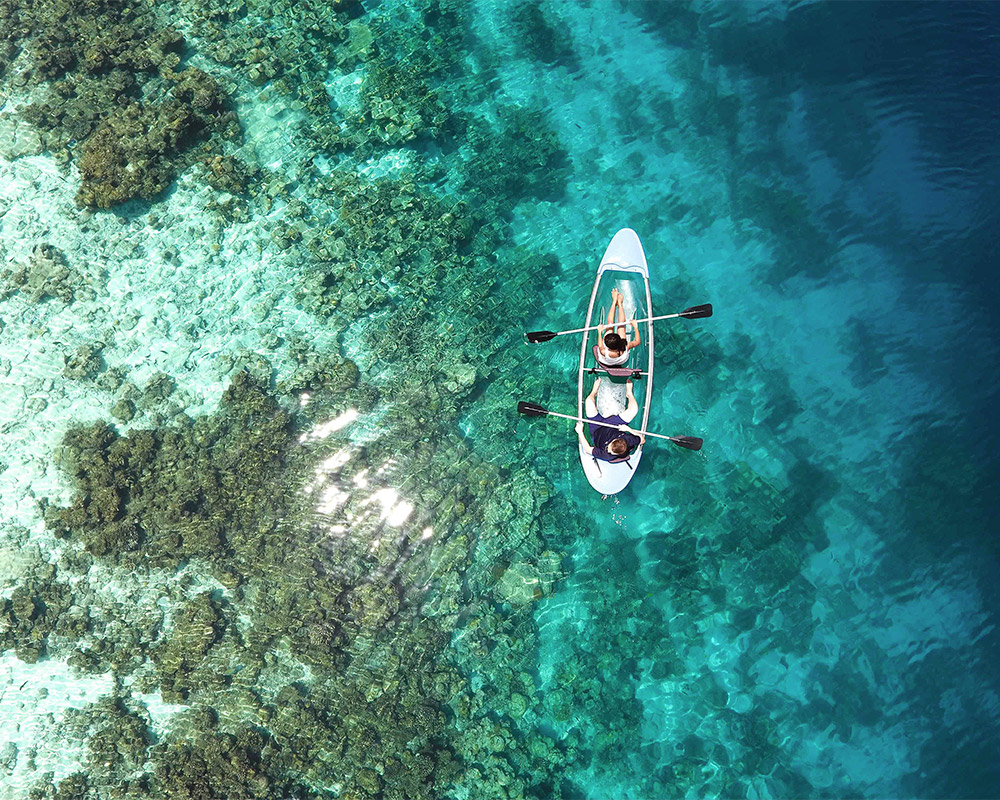 One of the most peaceful ways to explore the surrounding waters without getting wet. And it is a great workout for your body too.
Glide across the turquoise waters and watch the magical marine life beneath you. Hotels offer single, double and some may have glass bottom kayaks on offer as well. 
You can set off on your own or do a guided trip.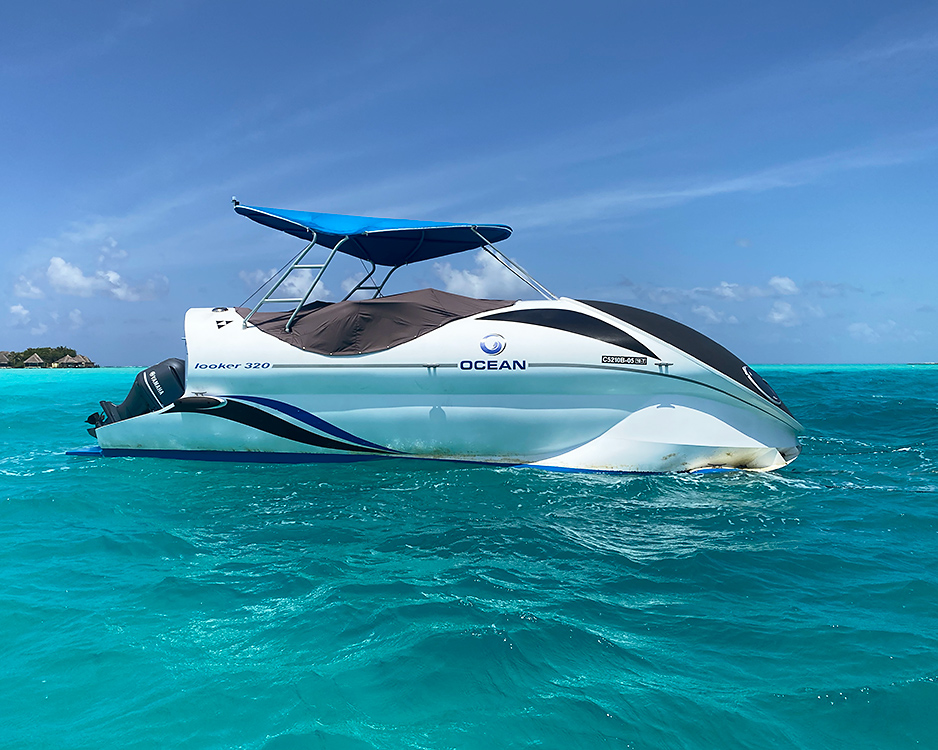 Snorkeling or diving is not the only way to experience the underwater world in the Maldives.
A Glass Bottom Boat Excursion allows you to get up close with the underwater world without getting wet. Ideal for families with young children and non-swimmers who prefer to keep their feet dry. Just sit back and relax while the experienced crew takes you to the best areas of the surrounding reef.
The perfect activity for families traveling with children as they can safely learn about what is underneath the ocean.
Some Resorts that offer excursions:
• Reethi Beach Resort
• Kurumba Maldives
• Baros Maldives
• Conrad Rangali
• Coco Palm Dhuni Kolhu
• Taj Vivanta Coral Reef
• Paradise Island Resort
• Anantara Dhigu Maldives Resort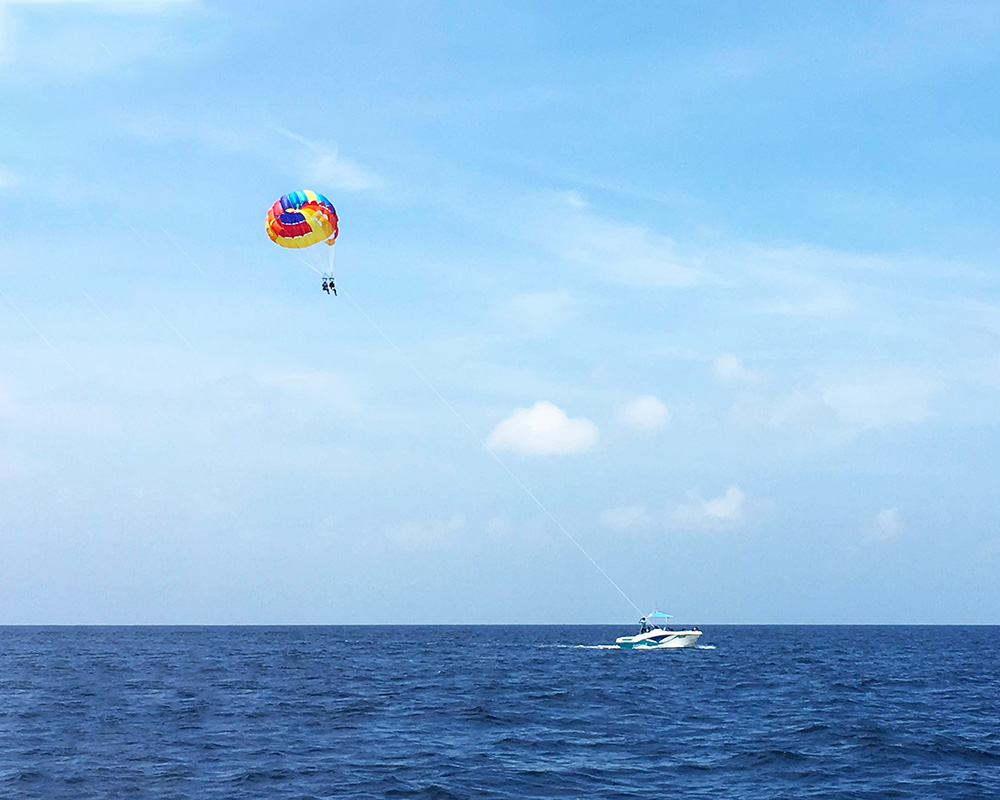 For truly unforgettable birds eye view experience this is the ultimate activity. You will be able to parasail to an exhilarating height of about 750 ft (200m). You can fly solo or with a loved one.
Parasailing during sunset is recommended for a golden panoramic view of the Indian Ocean.
Do you ever want to experience the thrill of skiing through the Indian Ocean while being secured to a motorboat?
There are many hotels in the Maldives that can arrange for a wakeboarding experience, either on their private lagoon or deeper in the ocean. If you base in the capital city Male' then the neighboring island of Hulhumale' or vilingili also offers wakeboarding. You will be provided with life vests and water-resistant helmets and there is no risk of drowning.
Some resorts that offer Wakeboarding:
– Velassaru Maldives
– Four Seasons and
– Hideaway Beach Resort & Spa
Similar to wakeboarding, knee boarding is a tow-sport in which the rider kneels on the buoyant and convex board that skims over the ocean surface. As you get a better you can try several tricks such as turning and jumping the wake of the boat. Advanced kneeboarders will do many aerial manoeuvres too.
Safety jackets are always provided to kneeboarders in Maldives.
The Seabob is the world's most advanced and powerful underwater scooter.
It is an electric-jetstream driven underwater sled completely environmentally friendly and emission-free and very silent underwater.
You can dive to several meters deep and also glide on the surface. You can effortlessly zip in and out of the water like a dolphin. Beginners are not advised to go deeper than 2-3m.
It is a fantastic marine toy to explore numerous coral reefs and marine life. Don't forget your GoPro or Paralenz to capture the underwater adventure.
Water skiing is usually done by extreme sports enthusiasts and adrenaline junkies. It can be  rewarding experience for anyone who's eager to for a unique experience while in Maldives.
It will take a bit of a getting used to for the beginner as it required a great amount of upper body strength and good balance. You will need plenty of muscular strength to hang on to the towing line. The stretch of large lagoons in majority of the islands will give you an overall smooth ride. Qualified instructors will make sure you get the best out of the experience.
This is a fun activity ideal for families and small groups of friends. Fun tubes are recommendable for both adults and kids as these joy rides require no previous experience, training you just need to hold onto the tube. The colorful inflatable tube is towed by a motorboat or a jet ski. It comes in various forms usually bed or couch shaped.
Each rider is given a life jacket and being able to swim is not necessary.