Swimming with the Manta Rays is a must-do experience when you visit the Maldives and they certainly are the most famous 'locals' here. Being one of the biggest and majestic creatures to see underwater, swimming with these gentle giants should be on your bucket list. It is a once-in-a-lifetime experience that the whole family can enjoy. Despite their enormous size, the Mantas Rays are no threat to humans.
Manta rays migrate seasonally within the Maldives, following the movement of zooplankton and feeding in bays and deep lagoons. The Manta Ray Trust estimates 5000 individual reef Manta Rays (Mobula alfredi) in the Maldivian waters, which is the largest population in the world. You can have close encounters with these incredible creatures through snorkeling or diving excursions arranged by resorts and guesthouses. 
Where is the best place to swim with Manta Rays?
From November until April (when ocean currents and winds veer to Northeast – Dry Season) reef Manta Rays (along with Whale Sharks) can be spotted on the western side of the atolls due to the high concentration of planktons from seasonal changes.
On the other hand, from May to October (when ocean currents and winds come from the Southeast – Wet Season), they can be seen feeding at locations at the eastern side of the atolls.
Please keep in mind that these are wild creatures so sightings cannot be absolutely guaranteed but they there is always a good chance if you visit the atolls and sites we have recommended below. Above all come prepared to join scuba diving and snorkeling excursions as often as you can.
Here are some key atolls and sites to consider:
South Ari Atoll:
There are multiple sites in Ari Atoll which are perfect for reef Manta-Ray encounters. We have chosen some popular sites and accommodation options. You will be able to catch Manta Rays throughout the year, either diving or snorkeling. Even if you stay in the southeast of the atoll you can still take a 1-hour boat ride to the southwest part of the atoll. In fact, the dive centers affiliated with the hotels will arrange these boat trips for you, depending on the season.  
Madivaru Manta Point (also known as Hukuru Elhi Thila or Rangalhi Madivaru)
Manta rays are attracted to the strong currents that form a whirlpool effect in the deeper parts of the site, where they can hover over the currents. They also frequent the cleaning stations nearby. These are spots on the reef where Mantas hover for a few minutes and smaller fish will remove parasites and dead skin from them. Recommended for Advanced Open Water certified divers only.
Camel Rock (also known as Okahlu Thila)
This is also a cleaning station where you can encounter them while scuba diving. Recommended for Advanced Open Water certified divers only. (North East – Hulhangu Season)
Lily Rock 
This is another manta cleaning station where you can encounter them while scuba diving. Recommended for Advanced Open Water certified divers only. (North East – Hulhangu Season)
Dhigurah Manta Point (Snorkeling)
Reef Manta rays are sighted in the lagoon of Dhigurah Island all year round. Regular snorkeling excursions are arranged by dive centers on the island and nearby resorts.
Where to Stay: Resorts
– Lily Beach Resort
– Vakarufalhi Island Resort and Spa
– Conrad Maldives Rangalhi Island 
– Sun Island Resort
– LUX South Ari
– Maafushivaru Maldives
Where to Stay: Local Island
– Dhigurah
– Dangethi
These locals islands are on the east side of the atoll. Even if you based on them, you will still be able to dive at the west of the atoll. These sites are 1 hr boat ride away (if seasickness is not an issue for you). Dive Centers will arrange excursions on your request and based on weather conditions for that particular day.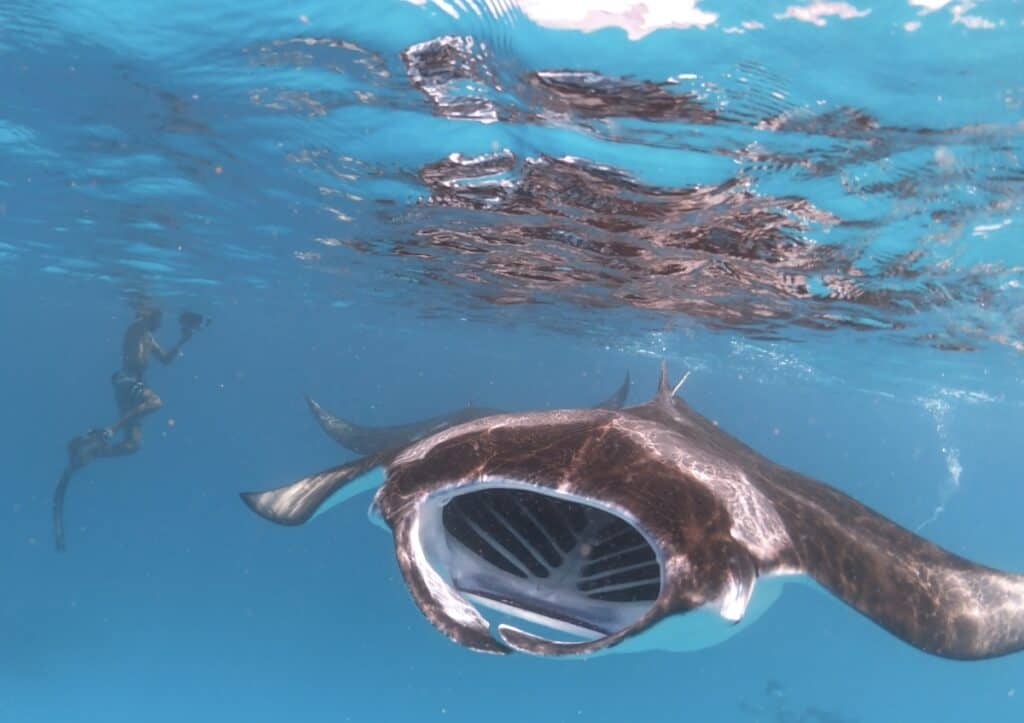 Fuvamulah Atoll:
One of the biggest populations of Oceanic Manta Rays (They are larger than reef Manta Rays) visits Fuvahmulah Island  regularly. Oceanic Manta Rays (Mobula birostris) or Giant Manta Rays have a wingspan of at least 7m (23ft) and weigh about 1500 kg. 
In addition, Great and Scalloped Hammerheads, Whale Sharks, Mola-Mola (Ocean Sunfish), Humpback, and Pilot Whales visit seasonally as well.
Fuvamulah House Reef (Jan to May)
Oceanic Manta Rays use Fuvahmulah reef as a cleaning station throughout the year. The period of sightings, reported is between January to May, and also between August to December. According to the dive centers on the island, the sightings peak around April, and on a good day, you can expect to see 50 or more Oceanic Manta Rays.
Most visitors, on average, stay for 7 nights and do about 10 -15 dives. For the best experience, you should have the Advanced Open-Water scuba diver certification.
Addu Atoll:
All-year-round encounters are possible here.
Addu Manta Point – (Scuba Diving Only)
With depths from 15 m to 25m and strong currents, this famous reef Manta Ray cleaning station is located in the Maa Kandu. Only accessible to divers with Open Water Diving Certification and above.
Where to Stay: Local Island
– Hithadhoo Island
– Maradhoo Island
– Feydhoo Island
– Gan Island
How to swim with Manta Rays?
Manta Trust has a research-backed Tourism Code of Conduct to minimize the negative impacts of manta dive and snorkel tourism. 
1. Enter the water quietly about 10 meters / 33 feet away from the animal. 
2. Keep your fins below the water's surface when swimming. Splashing and noise can scare mantas away, so approach as quietly as possible.
3. Always keep a distance of 3 meters / 10 feet and remain still and let the manta come to you.
4. Always approach the manta from their side, giving them a clear path to move forward. 
5. Do Not chase after the anima. You will never be able to catch up and will likely scare them away. 
6. Do not touch a manta ray. The slim protective coating on their bodies if removed can expose the animal to infections.  You may also receive a fine depending on local laws.
For scuba divers only.
1. When scuba diving, most probably you will be encounter them at a cleaning station. During the encounter, remain at the side of the cleaning station. Do not swim onto the main cleaning area.
3. Keep low and remain close to the seabed, making sure you do not damage the reef beneath you. 
4. When a manta swims towards your direction, do not block their path as they swim above you.
5. In addition to the above steps, make sure you follow any other laws and regulations that may be specific to the manta site you're visiting.